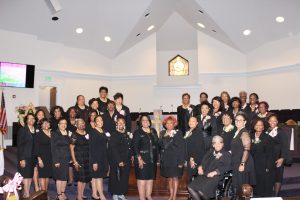 In December 1935, Clara E. Williams was sent by her associates to the Boule in Richmond, Virginia to obtain permission to establish a graduate chapter at Tuskegee Institute, Alabama. Approval was granted and Beta Xi Omega Chapter was chartered on June 13, 1936. The charter members were Ola Christine Collins (Gomillion), Marion A. Boyd Johnson, Irma E. Kingsley (Johnson), Eleze Goodwin Pitts and Clara E. Williams.
Since its establishment, the chapter has made invaluable contributions to the community and sorority. Annual scholarships have been awarded to Macon County High School seniors since 1937 and also periodically to Tuskegee University students. The Free Christmas Gift Shop for Veterans at the VA Central Alabama Health Care System, formerly known as the Tuskegee Veterans Affairs Hospital, has been conducted yearly since 1955. In 1994, special activities were held in observance of the 40th Anniversary of the Gift Shop. The chapter donated six nineteen inch color televisions to the VA for a ward to acknowledge this anniversary.
Through the years, the chapter has sponsored significant programs and projects – many of them in collaboration with other organizations, community agencies and the Macon County schools. Some of them are as follows:
Vocational guidance and career clinics
Voter registration and participation drive
Presentation of renowned artists
Reading skills development, creative writing, music, computer literacy and science/math workshops
Adopt-a-School and the Ivy AKAdemy projects
Lifelong learning activities with Head Start teachers, aides, students and parents
Support of the NAACP, UNCF, YMCA and the American Red Cross
Ivy Reading AKAdemy
Young Authors
Relay for Life
SIDS
Childhood Obesity
Arts on the Green
Emerging Young Leaders
ASCEND
One Million Backpacks
Think HBCU
Alzheimer's Disease and Caregiver Support Program
Stoke and Heart Disease Awareness
Mental Health Awareness
Childhood Hunger Initiative
Family Seasonal Wraps
Fiscal Responsibility Programs
AKA 1908 Playground Project (Restore, Refresh and Renew Project)
Acts of Green Program
UNA-USA
Africare
Newly initiated programs for the 2018-2022 administration include:
Signature Program:#CAPSM
Breast Cancer Awareness and Prevention
Heart Health
Nutrition and Wellness
Care for the Caregivers
Personal Financial Planning and Asset Accumulation.
Credit Repair and Monitoring
Entrepreneurship and the Black Dollar 365
Operation AKA Assist
Salute to the Harlem Renaissance
Salute to the Black Arts Movement
National Global Impact Day
Global Assistance Activities
Soles 4 Souls
Lions Club International
Pillowcase Project
Refugees in America Assistance Program (RAAP)
​For more information on Sponsors and Partners click here to access our International Sorority Program page.
Chapter Demographics
Year Chartered:
1936
Primary Geographic Area:
Tuskegee-Macon County Area (Alabama)
Professions within Chapter:
Educators, Healthcare Professionals, City Officials, Legal Professionals,
and a host of others